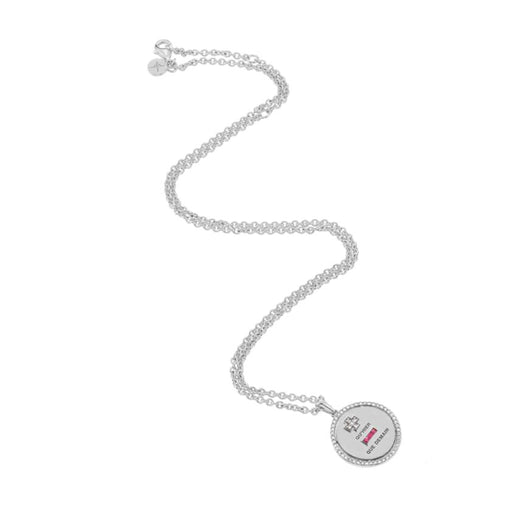 LOVE PENDANT SILVER DIAMOND SURROUND
Regular price $496.00 $434.00 Sale
This pendant is inspired by an extract taken from the poem "The Eternal Song" by 19thcentury French poet Rosemonde Gerard.
Car, vois-tu, chaque jour je t'aime davantage, 
Aujourd'hui plus qu'hier et bien moins que demain
For, you see, each day I love you more,
today more than yesterday and less than tomorrow
The pendant symbolises eternal love and reflects the poem with a + in diamonds and a – in rubies
I love you
More (+) than yesterday (qu'hier)
Less (-) than tomorrow (que demain)
10% of each sale goes directly to Wild at Heart Foundation 
Wild at Heart Foundation funds animal welfare projects all over the world. In particular, they want to compassionately reduce the world's 600 million stray dog population. We do this by organising rescue projects, neutering programmes and education initiatives.
By 2025 they want to rehome 10,000 dogs, neuter 100,000 dogs and educate 1,000,000 children.
The diamonds and rubies are set in SILVER WITH RHODIUM PLATING
The pendant measures 18mm diameter and comes on a 40cm-45cm chain as standard